Living progress – Vorsprung durch Technik
In January 1971, almost half a century ago exactly, an advertising slogan emerged for the first time, which, from then on, was to shape the public image of the Audi brand like no other. VORSPRUNG DURCH TECHNIK. In our special exhibition, we show this passion for technology through the ages.

We start with the first beginnings with August Horch, when "Vorsprung durch Technik", though not yet formulated, was already clearly noticeable in developments such as the "shock-free engine".
We continue through the 1920s, during which our predecessor brands, with two-stroke engine, left-hand drive and front-wheel drive, made a significant contribution to the breakthrough of the automobile as a means of mass transport. After the Second World War, it was originally the NSU brand, as the world's largest motorcycle manufacturer, that not only set speed records, but also made the leap to become a world-renowned car manufacturer thanks to its rotary piston engine. In Ingolstadt, on the other hand, Auto Union relied on lightweight construction and, already in the 1950s, the electric drive. After the merger of the two companies, things progressed with combined strength: at the end of the 1970s and at the beginning of the 1980s, new life was breathed into "Vorsprung durch Technik", entirely in the spirit of August Horch: quattro, TDI, ASF, galvanised bodies, lightweight construction and much more soon made Audi the unmistakable pioneer in automotive technology. This phrase, once conceived as an advertising slogan, thus grew over the course of time to extend beyond its actual meaning and became a creed of AUDI AG, a common thread that runs through all eras of the company's history and is still a promise made to customers today. Being ahead of the game is part of who we are.

Discover vehicles such as the NSU Ro 80, Horch Model 1 Phaeton, Audi 100 C3, DKW STM III, Audi A2H2 and Audi R18 e-tron quattro and exhibits such as the ASF of the Audi A8 D2 and the powertrain of the Audi A4 duo.

Admission is free.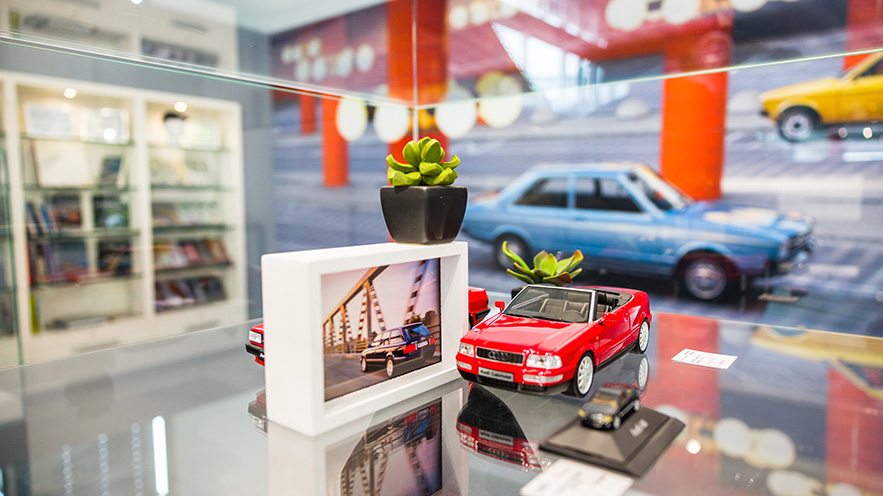 Tradition Shop – details that demonstrate passion
Audi stands for passion and a moving story. This is also illustrated by the diversity of items in the Tradition Shop on the second floor of the Audi Forum. Selected historical model cars, calendars and books about the highlights of the brand's heritage, and accessories, such as watches with historical logos, await all fans of Audi's more-than-100-year history.