Factory
Watch premium-class cars being made with state-of-the-art manufacturing methods. Select your desired programme from our wide range of offerings. Guaranteed to be a fascinating experience, whichever you choose.
Overview of production
Experience the entire production process that goes into making an Audi. Learn all the important things about Audi sites and the Ingolstadt factory. Watch the fascinating dance of the welding robots building the car bodies. Afterwards you accompany the painted body through the final assembly. The tour route may vary due to production needs.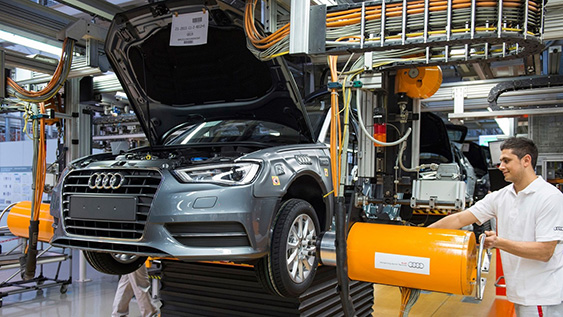 Watch an Audi on the home stretch. Before a painted body becomes a finished vehicle, a variety of handles with thousands of individual parts need to be added.
Journey to the future: The making of an Audi A3 and an Audi Q2 body (120 minutes)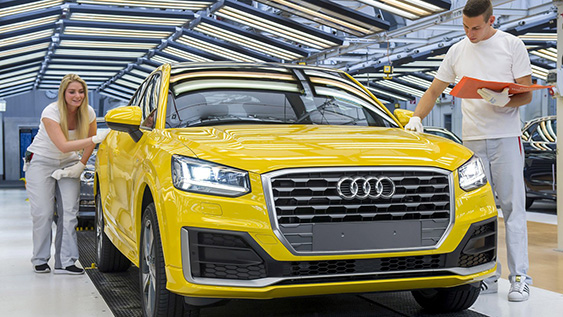 Watch plates being cut from extremely heavy sheet metal in the press plant. The steel or aluminium plates are then shaped in giant presses. This is largely determined by the tools produced on-site. Then it's time for one of the most advanced body construction units. Experience how a body for the Audi A3 and Audi Q2 is made from individual sheet metal parts. This production area is a highly efficient and sustainable factory with innovative technology and advanced equipment.
High-performance logistics system at Audi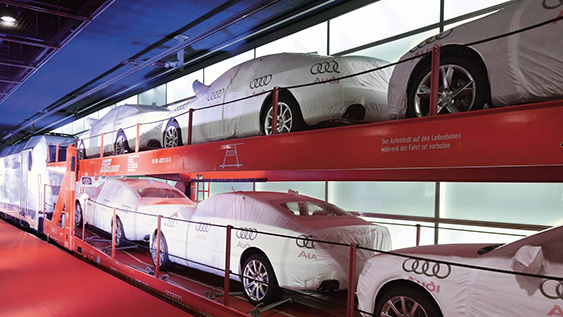 The focus of this special tour is on the complex challenges of effective logistics and modern solutions in the Ingolstadt factory. Manufacturing and supplier-logistical relationships are considered in more detail with impressive examples of just-in-time linking of suppliers and production. You'll see how prefabricated vehicle components are controlled directly in the manufacturing process and learn about production optimising methods such as Kanban.
The Audi Production System
As an added value oriented, synchronous company, our approach towards emotional design, quality workmanship, and innovative technology is unmistakable. We want to inspire customers worldwide. Our employees are the lynchpins. On this tour, the production system and its implementation rather than the product is the focus, in which all business processes are coordinated and follow the heartbeat of the factory. In addition to the success factors of lean production and the results achieved, we will also focus on the current factor of increasing digitisation (keyword Industry 4.0).
¹ Other languages available upon request.
² Seniors, students, children under 18 and disabled persons are entitled to discounted admission. Admission is free of charge for children up to age 6 (accompanied by an adult).
Appointment Please sign up for all tours in advance.
Phone: 0800 - 2 83 44 44
Email: welcome@audi.de

Due to the pleasingly high demand group tours in the factory are no longer bookable this year. Thank you for your understanding.