Audi RS e-tron GT: Power consumption combined in kWh/100 km: 20,2-19,3 (NEDC); 22,5-20,6 (WLTP); CO₂ emissions combined in g/km: 0
Ready for an unforgettable 2021?
Begin a new era of transportation with the Audi driving experience. This year, you will be among the first to experience the dynamism and extraordinary performance of the new Audi e-tron models first hand. These elegant electric vehicles prove just how much progressive and visionary thinking pays off. Vehicles that are every bit as spectacular as the landscapes, training sessions and circuits that you will be leaving behind you. And for all the sportiness, you will notice that excitement and everyday usability do not have to be mutually exclusive.

You will be accompanied by a selected group of professional instructors and enjoy an unforgettable time as part of a team exploring the thrilling world of electric mobility with the new e-tron models. The new Audi RS e-tron GT is ready and waiting for you.

Our conventional high-performance vehicles will also be there to inspire you. For example, you can try out the breathtaking handling of the Audi R8 Spyder V10 performance quattro models on the most beautiful and exciting routes that the Alps have to offer, as well as in our training courses.

You will not only get to push yourself to the limit, but also get a first-hand encounter with smart technology that can help you out in all kinds of situations and will put your needs first. After all, that is what we build our cars to do. And if you still haven't had enough at the end of the journey, that means we've done our job.

The future of the automobile awaits. All you need to do is get onboard. We look forward to seeing you!

Sincerely,

The Audi driving experience team
Audi sportscar experience
Dynamic handling, performance, a real spine-tingling sensation. Experience two of our high-performance Audi models in the place where you can get the most impressive demonstration of what makes them so special: out on the track. The Audi R8 Coupé V10 performance quattro and the Audi RS e-tron GT are ready to give their all.

Audi R8 Coupé V10 performance quattro: Fuel consumption combined in l/100 km: 13,0; CO₂ emissions combined in g/km: 299–297


Audi individual experience
Are you looking to have an instructor all to yourself? If so, you can select personalized training from our range, tailored precisely to suit your needs, requests and driving ability. Work with us to plan your own driving experience and choose whether to receive your training one-on-one or in small groups. This is also ideal for exclusive corporate events. You can experience it all with our most high-performance models.

Audi A8 55 TFSI quattro (shown picture): Fuel consumption combined in l/100 km: 8,3–8,1; CO₂ emissions combined in g/km: 191–186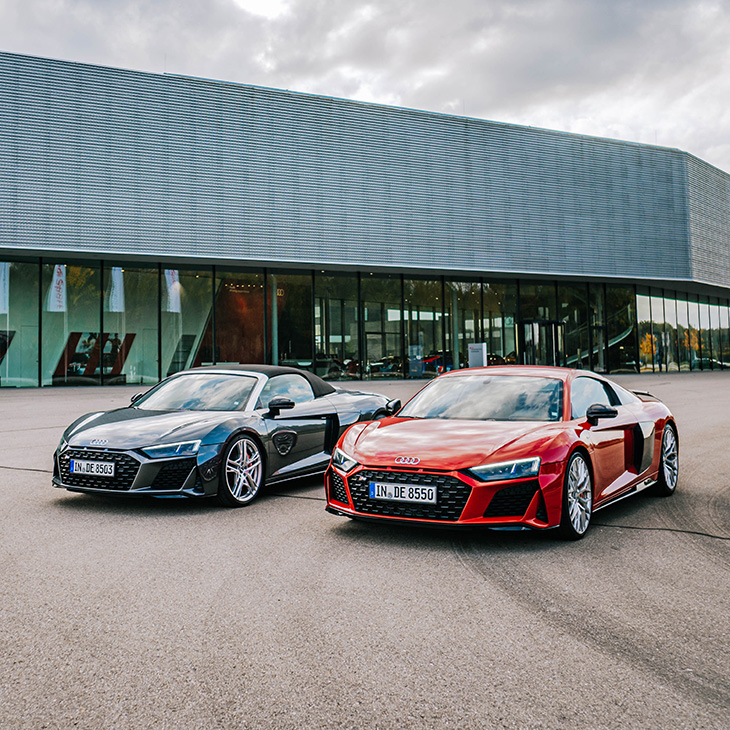 Audi driving experience center
The Audi driving experience center in Neuburg an der Donau, close to Audi's headquarters in Ingolstadt, offers a wide range of on- and off-road driving courses and hands-on motorsport experiences. The centre is also an ideal venue for corporate presentations and conferences. It is a place where business becomes show business, set against the backdrop of stunning scenery. And visitors are welcome even if they are not participating in a training course: the restaurant and rotating exhibitions alone make the trip worthwhile.

Audi R8 Spyder V10 performance quattro (shown picture left): Fuel consumption combined in l/100 km: 13,4–13,3; CO₂ emissions combined in g/km: 306–304
Audi R8 Coupé V10 performance quattro (shown picture right): Fuel consumption combined in l/100 km: 13,0; CO₂ emissions combined in g/km: 299–297
The most beautiful pictures of the Audi driving experience